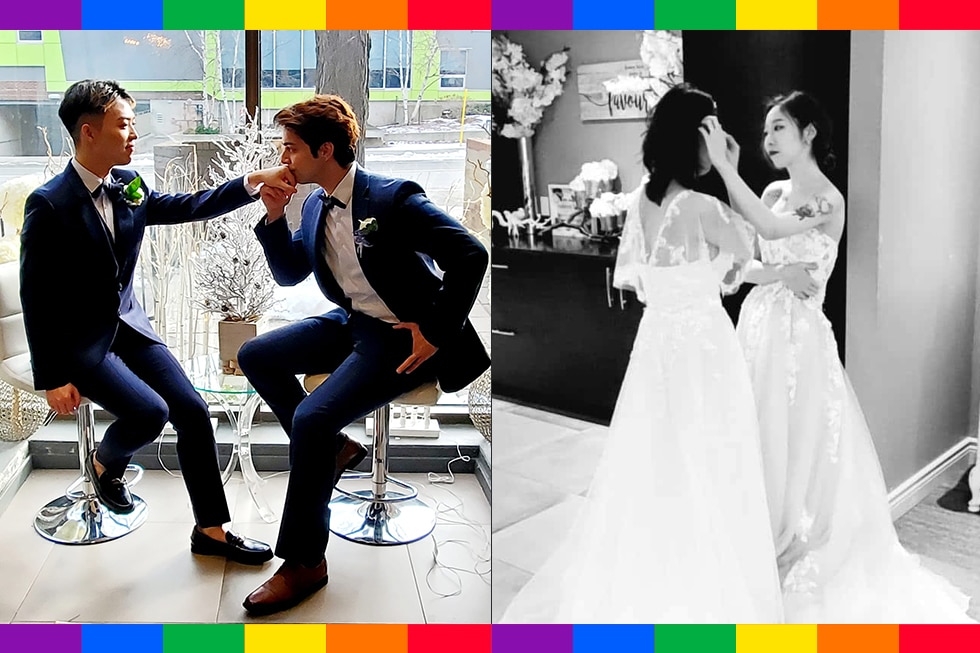 Micro gay weddings are really the rage! And the Toronto Wedding Chapel team are the experts in micro 2SLGBTQI+ weddings. We've been doing micro gay weddings since 2006!
Why have micro gay weddings become all the rage? These weddings include all the treasured customs and traditions that distinguish a wedding, but on a micro level. In recent years couples have started favouring small weddings with a more intimate ceremony. This is empowering for couples who want to focus only on their closest family and friends instead of a large wedding where they really don't know lots of the people. It's your way of sharing your special day with only the people that you love and who love you. The best thing about a micro gay wedding is that everyone knows each other! And, of course, let's not forget the reduced wedding costs which is a big benefit of a micro gay wedding. It gives couples more control over their wedding budget. If they want to spend more money on a lavish dinner, or anything else, then they can.
Venues are extremely important and the Toronto Wedding Chapel is SECOND TO NONE! Our wonderful wedding experiences can be performed in our Love Chapel on the main floor for up to 24 guests. Or if you are hoping to invite more guests to your wedding, our I Do Chapel located on the second floor accommodates up to 48 guests*. Pre-decorated in romantic white with a cream array of flowers sets the perfect stage for all our couples to exchange their nuptials. All of our wedding packages include a licensed Officiant, who are multilingual – English, French, Spanish, Portuguese, Polish, Mandarin and Cantonese and the packages are all-inclusive and customizable. We have many wedding ceremony packages to choose from during the week or on a weekend. Our professional photographers onsite and offsite paired with our professional videographers ensure your wedding day will be a memory always dear to your heart. Your moments captured by re-living your video or by looking at your pictures, and remembering how lucky you both are to have found each other. All you have to do is tell us what you want and arrive on your wedding day!
The Toronto Wedding Chapel is conveniently located in midtown Toronto in the heart of Davisville at 276 Merton Street. It's close to public transit and there is ample FREE parking for all your guests and your limo.
We're ready to help any couples to plan their gay micro weddings!
*There is no elevator to the second floor.